France and Design: an almost natural combination, home to revolutions, elegance and refinement, with its great ability to re-read the great classics plus a distinctive note of creativity. A generation of designers that is marking the time of this century, giving new life to the French cultural roots of interior design.
Ronan & Erwan Bouroullec
In order for something beautiful to be created two things are needed: the truth of everyday life, which blunts the edges of self-centeredness and, admittedly, some sort of ugliness. Loyal to these two elements Ronan and Erwan Bouroullec, who have been for a quarter of a century the most delicate and poetic souls of European design, as displayed in their exhibitions in Rennes and Tel Aviv, have chosen to work in Belleville, the latest popular district of Paris, far from fashionable terraces and tourist areas.
Ronan, who was born in 1971, is the eldest, while Erwan was born 5 years later. They look like twins, yet those who know them say that personality-wise they are like day and night.
In the interviews they have released, it is clear that what bonds them is work ethic, the continuous search for perfection, while what divides them is indeed their different personalities, thanks to which, however, a constant dialectical tension is maintained within the pair.
In their career, Ronan & Erwan Bouroullec have proven to be versatile and courageous, engaging in projects of all types and scales. Their works are exhibited as part of permanent collections in world-famous museums such as the Musée National d'Art Moderne – Centre Pompidou (Paris), the Museum of Modern Art in New York, the Art Institute of Chicago and the Design Museum of London.
The hallmark of the Bouroullec vision is precisely the ability to infuse a secret natural lymph to shapes.
Patrick Norguet
Appropriately embodies the designer's definition. He is an innovative, primarily at the center of a union, whose project he is one of the protagonists.
The French designer founded his own design studio in 2000; today he swings between industrial and interior design, also devoting himself to Van Cleef and Renault's stands.
Elected "Designer of the Year" in 2005, Norguet belongs to the generation that is making the "French touch" popular on an international scale; with his projects he best interprets the union between fashion and design that Cappellini has always theorized of, thus creating products of supreme prominence in both sectors, always combining innovation with sheer simplicity.
For companies like Cappellini, he loves working on emotions and intuition, considering objects in a different way and taking into consideration the context in which they are.
Some of his works are featured in permanent collections in prestigious museums, such as the Museum of Modern Art in New York.
Ora ïto
A phenomenon in pop culture, he is the youngest designer of his generation to collaborate with both jewels of luxury goods and industry, following the enormous acclaimed success of his Heineken aluminum bottle. Cassina, Cappellini, Bouygues, Alstom, Laguiole, Zanotta and Accor greatly appreciate his sculptural design, which has become a sign of modernity.
A tenacious methodology for which he has invented a neologism: simplicity, the decoding of today's DNA to conceptualize future mutations. His fluid vocabulary materializes movement by reinventing rationalization in the digital age and shaping the desires of our contemporary society.
In 2013 he created MAMO, an art center on the rooftop terrace of the legendary Cité Radieuse designed by Le Corbusier in Marseille. A historical and contemporary place high in the sky, with a 360° view that sums up his passion for levitation and lightness, "Challenging the laws of gravity creates sensations that go beyond aesthetics." The greatest contemporary artists are exhibited there, from Xavier Veilhan to Dan Graham and it will not be long before Ito inaugurates an architectural collaboration with Daniel Buren, the master of French conceptual art.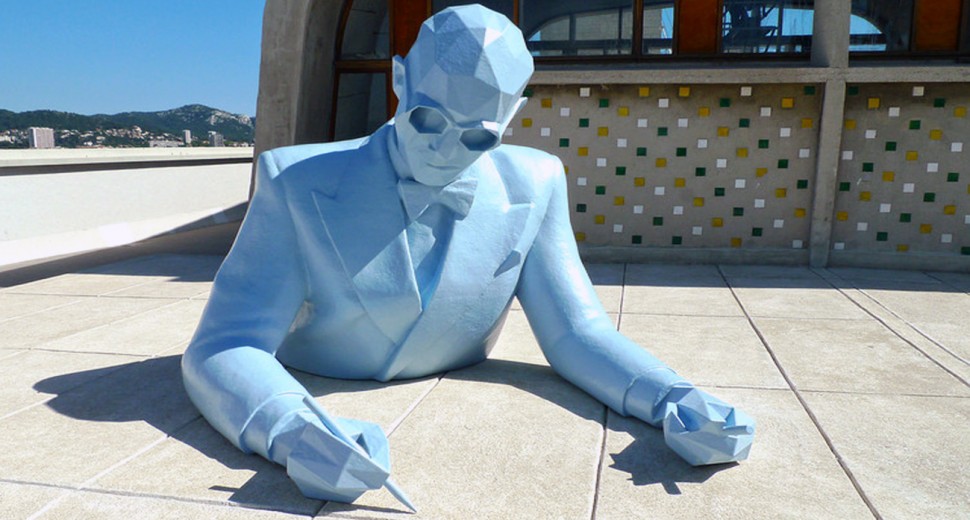 Ïto is currently attracting and impressing the media and, thanks to his influence, he has becomes an exclusive leader in the field of international design. Wallpaper has ranked him among the 40 best influential designers under 40. In 2011 he was appointed Chevalier des Arts et des Lettres.
Jean-Marie Massaud
Since the beginning of his career (he graduated in 1990 at the ENSCI-Les Ateliers in Paris, Paris Design Institute), he has worked on a variety of projects, ranging from architecture to objects, from one-off projects to serial ones, from the macro environment to micro contexts.
His search for lightness essentially summarizes three broader interests: individual and collective realizations, economic and industrial efficiency and environmental concerns. "I am trying to find an honest and generous path bearing in mind that, somewhere among difficult economic data, there are users. People."
His speculative and pragmatic creations explore the imperative paradigm of reconciling pleasure with responsibility, the individual with the collective sphere.
When asked to imagine a new stadium for the city of Guadalajara, in Mexico, which would combine leisure and culture, integrated within a vast urban development program that thrilled both enthusiasts and local citizens, instead of setting up a stadium, he proposed an environment. The project originated in July 2011.
Philippe Starck
Born in Paris, he is considered one of the most important European designers. Philippe Starck also works as an architect, designing spaces around the world.
While studying at Notre Dame of Saint Croix in Neully, he set up a company of inflatable structures financed by the French actor Lino Ventura. In 1970 he created the "Easy Light" lighting system, which was his first work to be reviewed. After three years upon meeting Jean-Louis Costes in 1981, Starck conceived the renovation of the renowned Café Costes, in Place des Innocents, situated in Paris first district.
A self-taught genius, the man who definitely created French design (before him there were no big names in this area), said of himself and his training:
"… My father was an inventor, he designed planes and the only legacy he left me was not a large sum of money, as it is generally the case with aviation – for me it was the opposite – but he left me with the idea that one of the most beautiful trades you can do is a creative one.
Creation enables you to carry out an inner search and work on yourself. And by creating airplanes, he taught me precious things: to make an airplane fly, it must be created, but for the plane not to crash, one must be rigorous ".
---