Simmetrie: Giuseppe Di Prima and Cassina
Simmetrie, a series of interviews in balance between design and architecture.
Fundamental concepts to architecture and design are symmetry and asymmetry.
TRJ acts as an agent for the major brand leaders in the furniture and lighting sectors. It comprises architects and designers who provide assistance to architectural firms for their projects as well as sales managers who guarantee consultancy and training to its own retail partners.
With this series of interviews, TRJ intends to explore the profound and symmetrical relationships between design and architecture while picking up the thread to share close, ongoing collaborations between designers and brands.
Symmetry from the Greek, συμμετρία, a word formed by combining σύν, "with" and μέτρον "measure", is the ordered distribution of an object (a building, a structure, a work of art, etc.), into two identical parts so that a geometrical element (a point, a line or a surface) in one half corresponds at an equal distance to the same geometrical element on the other….and with measure, projects are designed.
Symmetry can also be taken as a term by which it qualifies the type of interpersonal relationship: a state of constant research is thus established from which a symmetrical type of equilibrium may arise. In a wider sense symmetry can be interpreted as an equilibrium ratio between architectural elements and objects, between the designer and the architect.
For the first event of the series, we interviewed Giuseppe Di Prima, the founder of gdp/architettura, who was nominated one of Sicily's foremost architects, and who acts as ambassador of Sicilian stone around the world. His projects, published in the most prestigious international architectural magazines (AD, Domus and Interni to name just a few), are all distinguished by his careful attention to detail, materials and color quality.
What is your relationship with objects? Is it a symmetrical one?
The relationship of symmetry in interior design is equivalent to the relationship of equality between space and objects where the search for the right proportions and therefore of the "position" of objects in space, is of prime importance. Furnishings must assume the role of real works of architecture, orient our eye and gestures and impose pauses for our privileged points of view.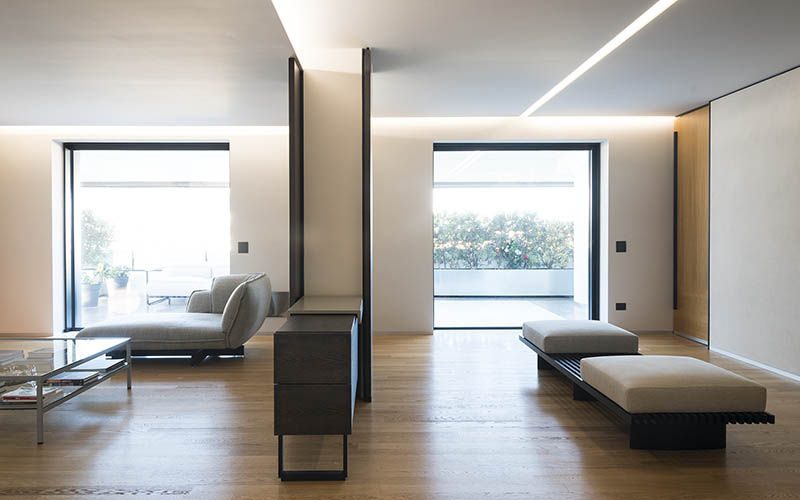 "Beam Sofa System" by Patricia Urquiola and "Refolo" system by Charlotte Perriand | Cassina | Photo: Nanni Culotta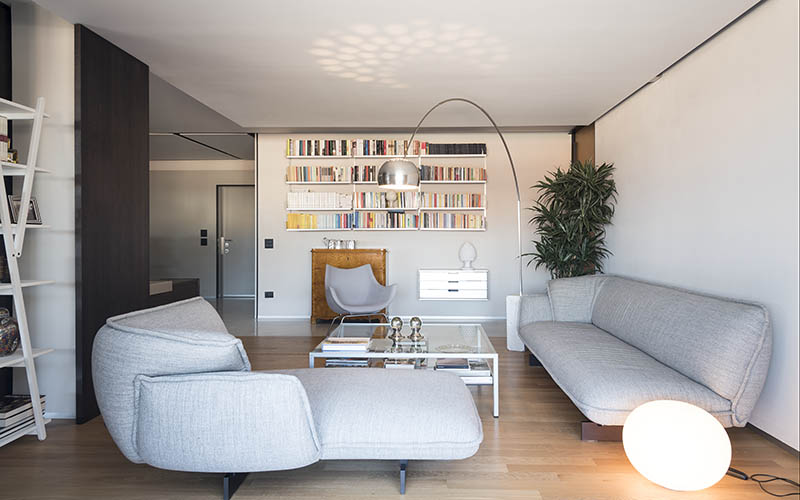 "Beam Sofa System" by Patricia Urquiola | Cassina | Photo: Nanni Culotta
In your projects do you let architecture dominate interior design, or is it the other way around, or do you look more for a state of equilibrium?
I always seek to give equal footing to architecture and design. Furniture from Cassina's collections dedicated to I Maestri (the Maestros) has withstood the test of "time"; other collections following in the Maestros' footsteps, are candidates to pass it as well. This is a resource for designers. Prestigious architecture requires equally prestigious furnishings.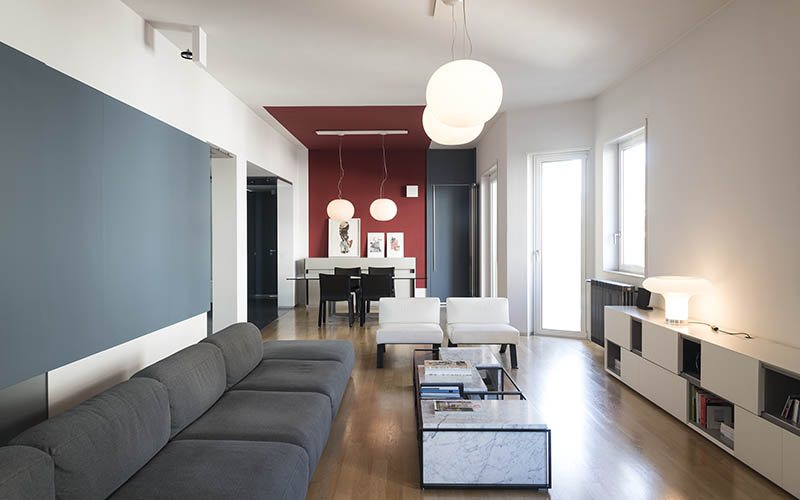 "Mex" Sofa by Piero Lissoni and "Ombra" Armchair by Charlotte Perriand | Cassina | Photo: Nanni Culotta
There must be a reason why the LC5 sofa, designed and manufactured in the 1920s, still has a market and admirers. To see it "happily"  ensconced next to Gregorietti's Art Nouveau decorative ornamentation in Palermo's stately homes from the 30s, tells us a lot about how the concepts of modernity and contemporaneity have been misconstrued, and maybe still are.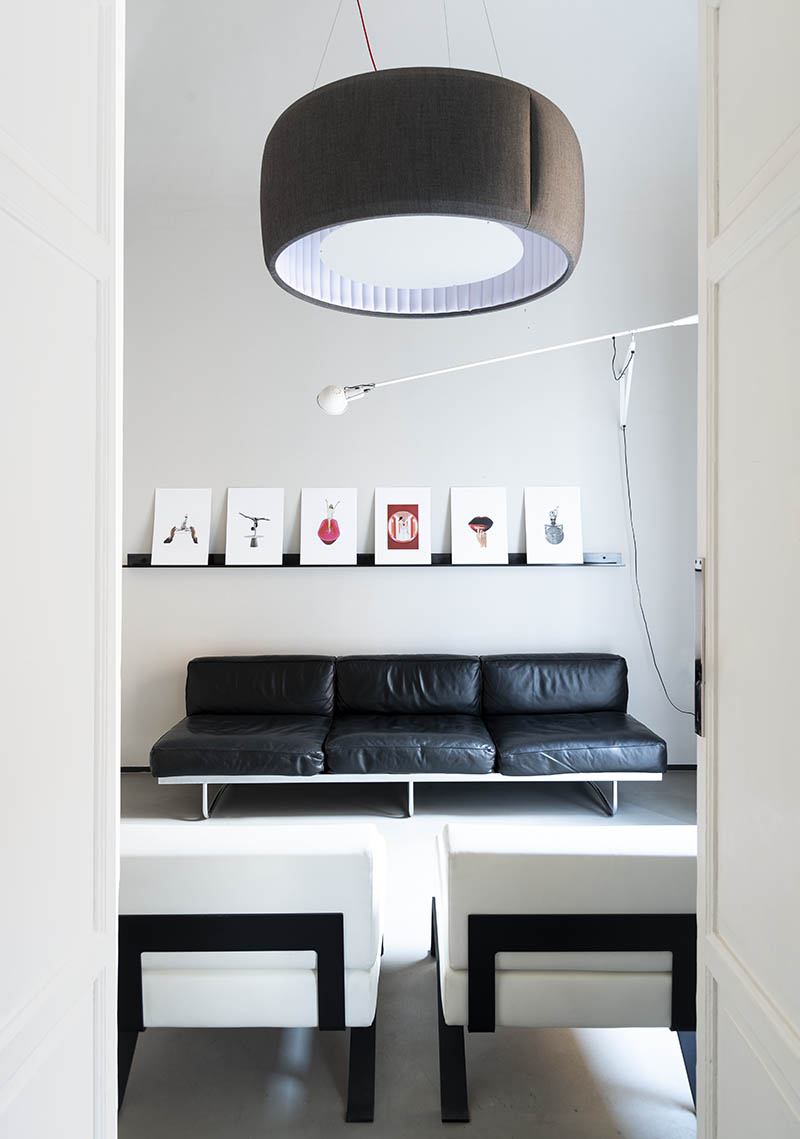 LC5 Sofa by Le Corbusier, Pierre Jeanneret e Charlotte Perriand and "Ombra" Armchairs by Charlotte Perriand | Cassina | Photo: Nanni Culotta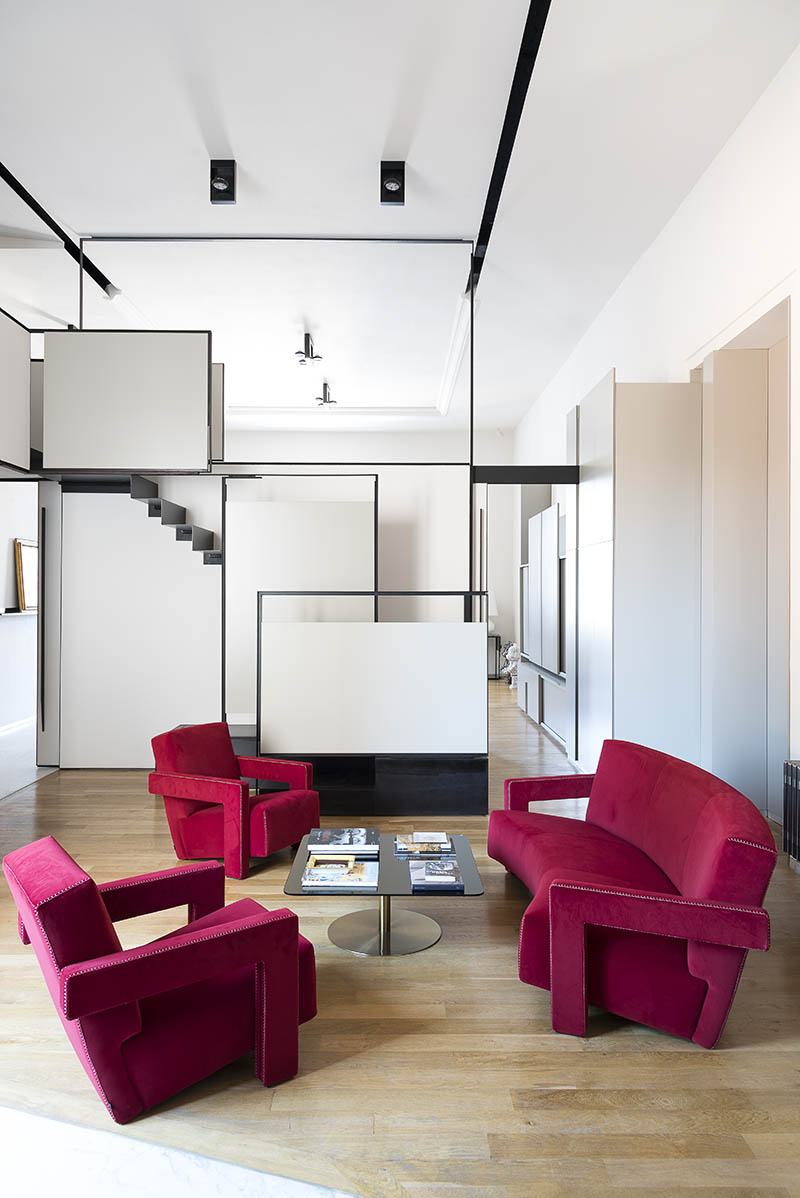 "Utrecht" Sofa and Armchair by Thomas Rietveld | Cassina | Photo: Nanni Culotta
In this sense, which of your projects do you think are more symmetrical (or asymmetrical)?
The project for reconfiguring an apartment inside Palazzo Sambuca ('700) in a contemporary key. Monumental rooms, in which some of the decorative ornamentations managed to survive wars and earthquakes, are burnished anew with an abstract design, the only approach capable of manipulating History and transmute it into something else, towards a new synthesis, for a renewed identity.
I found Piero Lissoni's  "Mex" and Charlotte Perriand's "Refolo" Sofa systems to be perfect choices.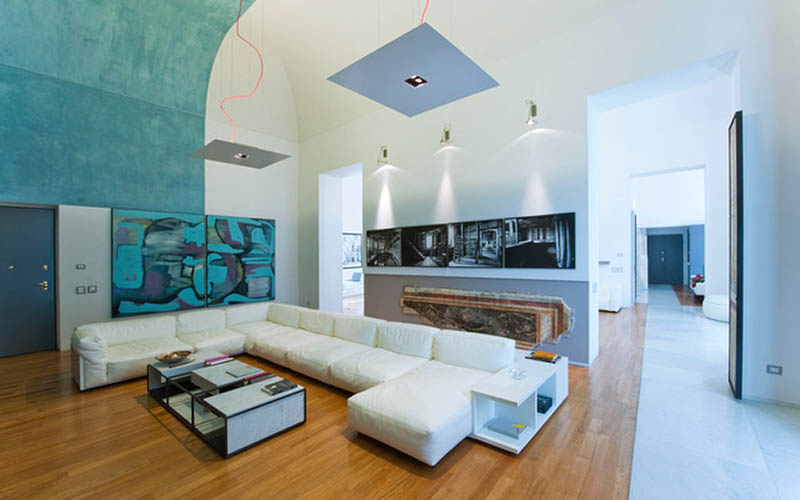 "Mex" Sofa by Piero Lissoni | Cassina | Photo: Fabio Gambina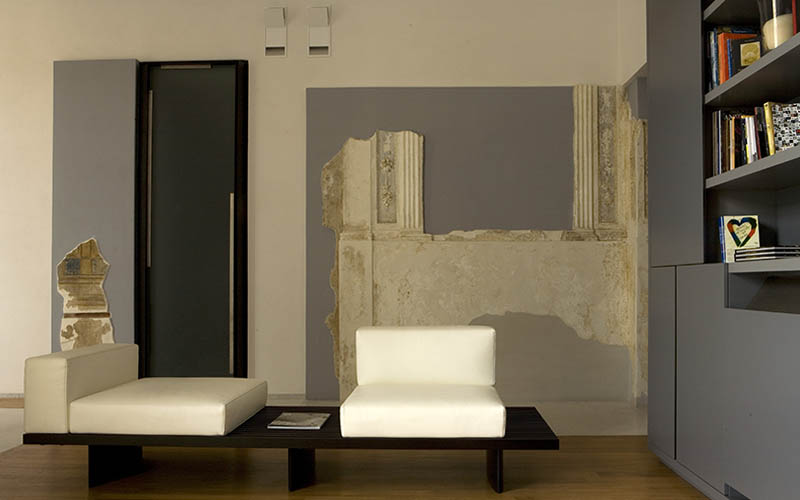 "Refolo" Sofa by Charlotte Perriand | Cassina | Photo: Giulio Oriani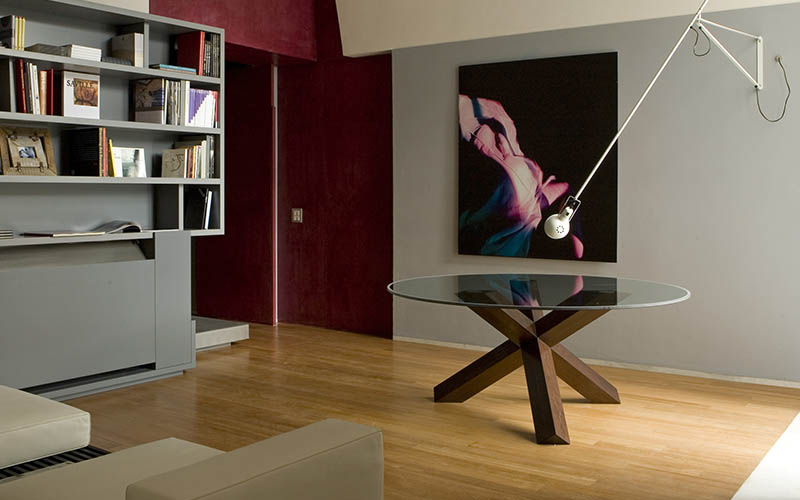 "La Rotonda" Table by Mario Bellini | Cassina | Photo: Fabio Gambina
Which of Cassini's pieces of furniture are you most emotionally attached to?
Three collections, three pieces of furniture
From the I Contemporanei collection: The "8" Sofa and the "Mex" system by Piero Lissoni;
From the Simon collection: the "Sarpi" table with a glass octagonal table-top by Carlo Scarpa.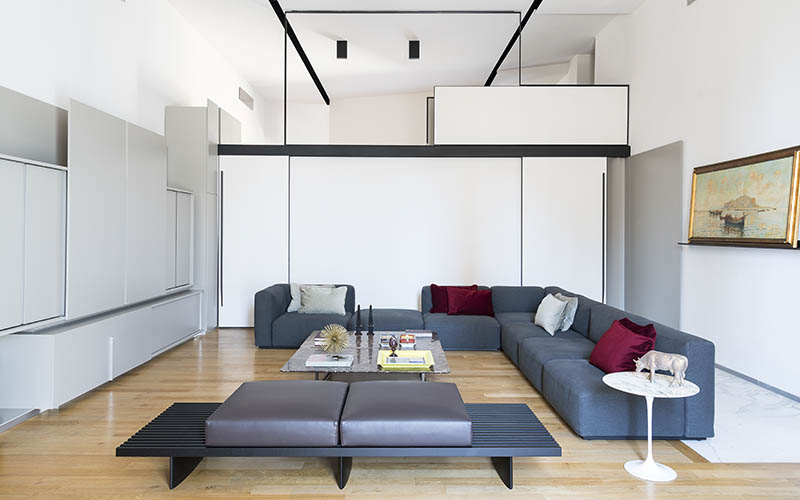 "Mex" Sofa by Piero Lissoni and "Refolo" by Charlotte Perriand | Cassina | Photo: Nanni Culotta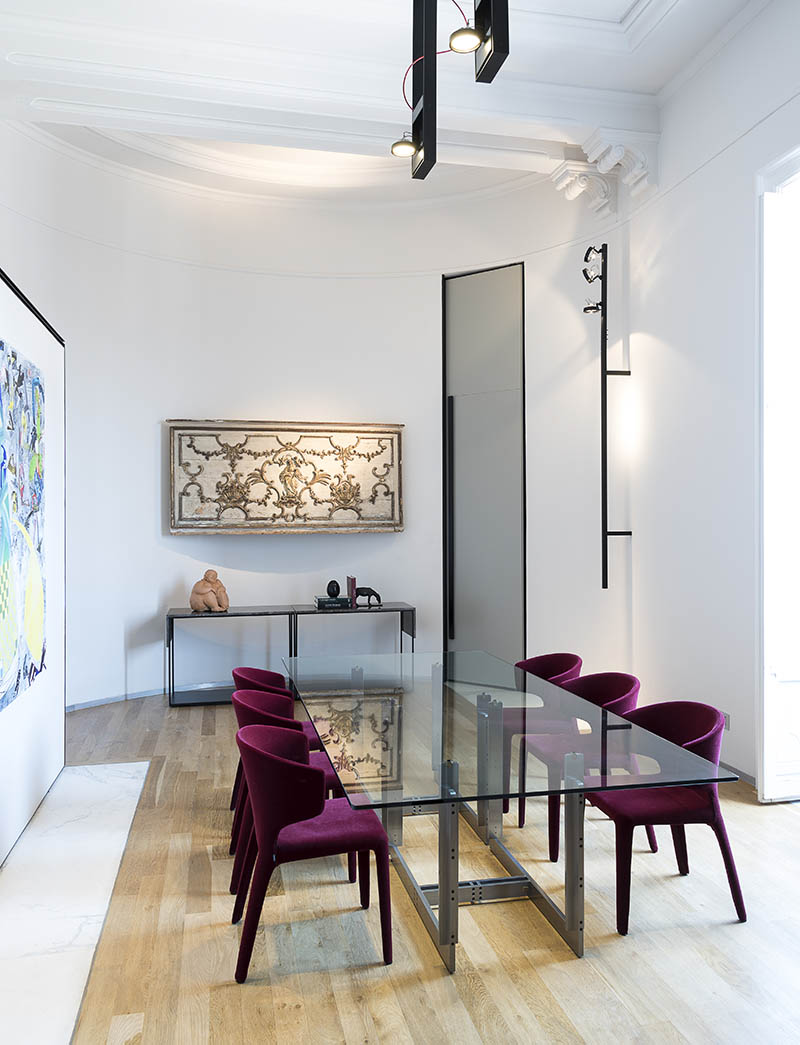 "Sarpi" Table by Carlo Scarpa with 3 meter-long glass table-top, Hola Chairs by Hannes Wettstein | Cassina | Photo: Nanni Culotta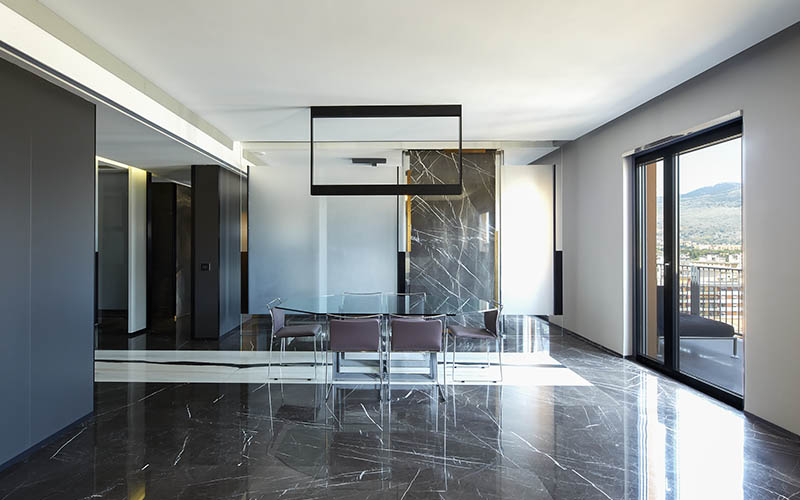 "Sarpi" Table by Carlo Scarpa and "Tulu" Chairs by Kazuhide Takahama | Cassina | Photo: Lorenzo Palizzolo
From the I Maestri collection: the "Ombra" Armchair by Charlotte Perriand;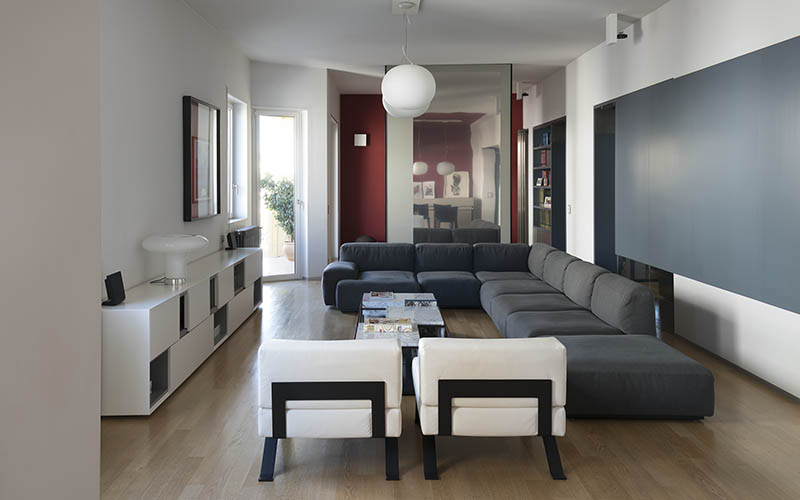 "Ombra" Armchairs by Charlotte Perriand | Cassina | Photo: Nanni Culotta
"We can define our collaboration with TRJ also as one of symmetrical balance.
Massimiliano Troja and the whole TRJ team have been able to interpret both my needs and the ones particular to each project in the best way, coming up with furniture solutions and customized lighting proposals.
Furthermore, TRJ has fostered continuous and constructive dialog with their retailers, reference points in Sicily for design aficionados. As in the case of the projects mentioned above where both, Scillufo in Palermo and Mohd in Messina,  supported the entire sales and installation process of their products.
TRJ eases the contact with companies, speeding up the exchange of both technical and operational information, and working in tandem with me during the various phases to create and execute my interior design projects".
Luca Fuso, Cassina CEO, confirms that "the contribution of professionals who have the experience and the ability to interpret the real Cassina brand's soul is crucial".
When it comes to the importance for architects to utilize Cassina products as a long-lasting and elegant means of enhancing their projects, Luca Fuso states that, "The company has a very eclectic collection that lends itself to fully and comfortably furnish many projects, for both Residential Division and Cassina Contract, blending innovative products with the icons of modern design".
The thirty-year passion of Massimiliano Troja and his team towards architecture and design is amplified every day thanks to the relationships with main design brands and with the best international architecture practices: a TRJ's privileged point of view that allows a complete market vision and to interpret and adapt to change while working in a cohesive and synergetic way with partnering architects and dealers.
To sum up our series' first interview with Arch. Giuseppe Di Prima, we conclude that the final quality of an architectural design project and the customer's consequent satisfaction are characterized by a system of collaborative relationships and relations in which each plays a different role.
A symmetrical state of equilibrium among the parties involving the architect, the brand, the retailer and TRJ.
---