Italy unquestionably represents the cradle of design, and Milan its centrepiece, being inked to an important centuries-old craft tradition, synonymous of quality, style and elegance. The first important season of Italian design is closely linked to the industrial boom. It is no coincidence that the most influential clients were big brands such as Olivetti and Fiat. Those iconic figures, including such Maestri as Castiglioni, Mendini, Sottsass, Magistretti, Zanuso have not only influenced the approach to the design of objects in Italy, but have also created the foundations of the current international movement. The second generation was led by Mario Bellini and Michele De Lucchi. With the development of intercontinental transport, the Internet and global communication in general, current designers have drawn on cultural movements from distant countries and cleverly reinterpreted them by mixing them with the cultural background handed down by the tradition of the Italian design.
Giuseppe Bavuso
An architect and a designer, with a rigorous trait, an aesthete of pure, perfect lines. His obsessive search for lightness is linked to his great ability to bind different materials together with style and elegance, through the important help of technology and applied engineering. Today he is the Art Director for Ernesto Meda and Rimadesio.
He has received several awards: the Red Dot Award for Ernesto Meda Icon kitchen system, KBB Review New Year's Honor-List For 2000 for Rimadesio bookcase and walk-in closet system "Zenit" and selected for the Compasso D'Oro for the Vela door, always for the same company.
It is precisely with Rimadesio that Bavuso has evolved and expressed all his creative potential, starting from the design of interior fixtures, in the name of lightness, visual cleanliness and great technological research. With the same consistency of language, he ranges from the design of walk-in closets to bookcases, from sideboards to tables, making the most of aluminium characteristics, combined with glass, marble and wood.
"I like to think I can satisfy all those people who love the rationality and functionality of places without giving up the soul of things. With my collections I try to address an audience with a contemporary and refined taste, who long for a very refined environment, where luxury is to be experienced and not to be flaunted."
Mario Bellini
An architect and a designer, he began his career as a consultant for Olivetti. He has been the director of design at La Rinascente, president of ADI, director of Domus magazine. In 1972 he created with Cassina: Kar-a-sutra, the precursor of modern minivans. In the 80s he devoted himself mainly to architecture, also winning the competition for the Islamic wing inside the Louvre.
He has received the Compasso d'Oro eight times, several international awards, including the Gold Medal awarded by the President of the Republic Carlo Azeglio Ciampi for the diffusion of design and architecture in the world and the Gold Medal for Italian architecture (career award in 2015). As many as 25 of his works are featured in the New York MoMA permanent collection.
" Rewards have a side effect: they keep you awake, active and make you want to get many more of them. They push you to new challenges, provided that you are curious and possessed by that demon of creativity that can do everything. I can say that I am still fiercely curious and possessed "
The long lasting and satisfying partnership with Cassina has led to several projects which are still among the best sellers today, such as the Cab seat, made from a steel core covered in an innovative and tailored way with a leather "dress".
The MB1 Quartet armchair was recently re-edited; a project from the 1960s, where the padding becomes a piece of furniture with four independent cushions connected to each other by means of a belt loop.
He loves challenges, and that of plastic stimulates him. For Kartell he has designed the Dune trays, a huge sales success, and Shanghai, a faceted vase that opens from the base to the top as if pushed by a swirling movement, which gives it light and grit.
Francesco Binfarè
Francesco Binfarè is one of the greatest connoisseurs and designers of upholstered furniture. For 13 years he was director of Cassina Research Centre and in 1972 at MoMA he coordinated the most important exhibition on Italian design: New Domestic Landscape.
"The sofa will be the last object to remain in the house, when everything is digitalised, thanks to its relationship with the body. It must be welcoming, it must be felt before being looked at "
In the 60s the introduction of polyurethane gave formal freedom to upholstered furniture; associated with great comfort, it moulds itself taking the most surprising shapes. The research went on and the designer, with Edra, introduced a new even more performing material, the Gellyfoam.
"The most mysterious thing remains the form to be given to the idea. For 25 years I have shared this mystery with Edra, the Tuscan brand of the Mazzei family. For them I project through freehand drawing. Flap (2000) is my best seller: originating from a dream, it develops horizontal comfort. The mobile back stylizes a fig leaf. Grande Soffice is the last creation: super soft for lazy people like me, it is a sofa that embraces you in a difficult historical period "
On the collection of upholstered furniture On The Rocks, another great international success of the Tuscan company, he says:
"This project was triggered by observing people who went to the sea and sat on very rocky beaches, especially in Apulia where I used to go. I did not understand how people could spend many hours sitting on towels, even in unusual poses. At that time, Valerio Mazzei, the owner of Edra, turned up and showed me a material that allowed me to make seats, which I interpreted as eustatic. Such material that, regardless of the centre of gravity and the inclination of the body, is able to accommodate a certain degree of stability, which paradoxically reminded me of the way to sit on the rocks"
He therefore furthered this research, which has found its apex in the Pack sofa: a sculptural and spectacular volume, which represents a bear curled up on an irregular ice sheet. The animal becomes a soft mobile back covered with ecological fur and non-slip inverted leather on the bottom. There is a great attention to details, especially for the texture of the chosen fabric and the prismatic position of the seams.
Gabriele Centazzo
A visionary designer, co-founder of Valcucine, Gabriele Centazzo has always had great sensitivity for environmental issues, and earth has always been an important design stimulus. According to the logic of circular economy, products must also be designed with a view to disutility and subsequent reuse, in order not to produce waste. Sustainability meant as dematerialisation, recycling, and reduction of toxic emissions. His kitchens make use of advanced technical, engineering and stylistic research, by resorting to suitable and innovative materials for this sector, such as glass and aluminium. He has described Artematica Invitrum as follows:
"It is the first model in the world to offer glass and aluminium frames composed like a meccano, completely mechanically disassembled, with zero use of glues and therefore with the advantage of emitting zero formaldehyde".
The theme of beauty is always present. Kitchens must be "timeless" and last over time, respecting the principles of eco compatibility. Another fundamental component is ergonomics. He therefore supports Renaissance reflections, and in particular Leonardo's treatises on the anthropocentric vision of man at the centre of space. The kitchen must be thought of as an extension of the user's limbs, and not the other way around.
In 2012 he published his Manifesto in the most authoritative Italian newspapers: 3 pages dedicated to his vision "of a new Italian Renaissance".
Always experimenting as with Meccanica, a kitchen designed as a metal sectional, a versatile frame structure that houses containers and appliances; in Genius Loci the protagonist is the hidden drawer, which makes the most of the storage space. A horizontal sign marked by finishes or handcrafted decorations in contrast with the rest of the composition.
Ergonomics is taken to the extreme in Concealed Logic: a kitchen that, once accomplishing its use, becomes a precious closed monolith, using mechanical elements and high-tech digital tools.
Antonio Citterio
A Lombard designer and an architect, he works in parallel in these two areas, which often overlap. The critic Luigi Prestinenza Puglisi has described him as follows:
"He feels he is an architect in his heart. And, coherently, he pursues an approach to design that is entirely devoted to the practice of building a habitat, that is, projected more on the functional and spatial dimension than on the artistic or recreational one. In short, to put it as a joke: a design imbued with architecture in which, even when designing a spoon, a city is borne in mind"
In the 80s his professional path intersected with the Mephis and Sottsass group and the Esprit group.
In 2000, together with Patricia Viel, he opened a multidisciplinary design studio, with offices in Milan and New York, with over a hundred employees. He mainly works on work environments, accommodation facilities and airport reception areas.
His references are Mies Van Der Rhoe for their elegance and style, Herzon & De Meuron for their work on surfaces and their return to a simple language.
His minimal style is not extremist, but it aims at emphasizing details.
He won the Compasso d'Oro in 1987 with the revolutionary Sity upholstery system for B&B Italia and in 1994 with the Mobil drawer system for Kartell, thanks to the innovative use of plastic on a metal structure, suitable for different types of environments, which is still a bestseller today.
"With Kartell I was able to take advantage of the know-how of a company specialized in the development and production of plastic materials and to work on the design of home furnishing and objects, contributing to the relaunch of an extremely contemporary material"
The partnership with Claudio Luti's company did not stop and, after Spoon table and chairs, the research has recently continued with the "family" of Multiplo tables, with stoneware top and two possible die-cast aluminium legs as well as the Bio Chair, one of the first products in the world to use Biodura, an innovative, biodegradable material made from renewable raw materials not used for producing food.
Carlotta De Bevilacqua
An architect, a designer, a genius in the world of lighting, in the 90s she began her partnership with Artemide, which since 2013 she has been managing, together with her husband Ernesto Gismondi.
Design for her is:
"In three words: equity, what is done must be thought for man; economy, it must be held within a balanced system; ecology, it must be thought of in relation to the planet"
" For me, design means improving the lives of others. This is done through social reflections on needs, studying new technological opportunities and, above all, by adopting an almost political stance. In the field of furniture, for example, the introduction of plastic, polymers and synthesis has allowed not only to protect our hands and not to bring heavy buckets, but also to have the opportunity to sit and live intelligently, at an affordable price and with a range of flexibility."
She has received several international awards, such as the IF Product Design Award for the Cata lamp, the Red Dot Design Award for Algoritmo and Copernico, and the Wallpaper Design Award for Best Transparency for the Empatia lamp project.
Her research in lighting design has allowed her to introduce innovative technological perspectives and unprecedented scenarios both as a sensorial experience and in the interaction between communication and information. Designing light does not only mean designing the lighting body, but also all the iterations and emotional sensations that arise from it, like a sensory performance in space based on the emotional presence of man, who feels involved on different grounds: perceptual, communicative, emotional, psychological and even physiological.
LED has greatly changed the way we think about a lighting body, and Copernico represents in this sense a new language, which is born together with the new technology. Nine concentric and adjustable ellipses obtained from a single aluminium plate support a circuit of 384 LEDs, like stars in a galaxy, likewise Empatia, where this time the protagonist is the processing of blown glass according to the Venetian craftsmanship tradition. An opal diffuser that fades to transparent shades to protect a thin led backlit methacrylate cylinder.
Together with the decorative products, the designer greatly regards the architectural component, considering light as a qualitative gesture in space. An example for all is the Vector system: small, adjustable, elegant, highly performing spotlights magnetized to an electrified track.
Come Together is one of her latest designed products: a wireless table lamp with a cylinder-conical shape, which manages up to 16 hours of autonomy.
Michele De Lucchi
A multifaceted architect, a designer and an artist, Michele de Lucchi is one of the great masters of made in Italy. Director of Domus magazine, Officer of the Italian Republic for merits in the field of design and architecture, he has twice won the Compasso d 'Oro. He was an assistant to Natalini, worked with Sottsass, and was one of the founders of Memphis. In 1990 he founded "Private Production", a brand that produces products with artisan techniques, where he could experiment without constraints or impositions.
"My role is not to satisfy the requests, but to show alternatives and break the conventionality of clients. Very often those who commission our work do not know exactly what they want, if not as a final goal, and expect from the project an amplification of their thinking and their reasoning".
As an architect, he is remembered for having designed the Zero Pavilion at the Milan Expo, the Peace Bridge in Tbilisi and the Unicredit Pavillon in Milan.
For this European larch laminated wood auditorium, De Lucchi has also created a seat, the UniCredit Pavilion Project, reinterpreting the classic director's chair in a very sophisticated way, using the most advanced technologies and the skills of the master cabinetmakers of Cassina joinery.
"I would have always liked to be a director, but I only know how to make chairs"
His most important professional success is undoubtedly the design of Tolomeo lamp, designed with Giancarlo Fassina for Artemide, probably the most popular and recognizable design product in the world, for which he has been awarded with The Compasso d'Oro.
"The mechanism originated by observing anglers fishing with a line; it seemed intelligent to me that, with a small lever arm and a cable, a rod could be suspended to attach something to.".
For Alias, he has creates the Dehors collection of outdoor upholstered items inspired by the irregular nature of plants, whereby an irregular metal frame, beyond architectural rigor, props up the back and seat cushions. For the same brand, in 2019 he designed Trigono sofa, which takes its name from the wooden trilite system that supports the backrest. The look is that of a more artisanal than industrial product, the work on solid oak is careful and accurate. The central beam, made of the same material, allows a system of belts to support the back cushions.
Rodolfo Dordoni
Dordoni is part of that Milanese school that revolves around Castiglioni, Zanuso, Magistretti and De Lucchi. He was Art Director for Artemide, Cappellini, Fontana Arte, Foscarini, Minotti and Roda and he has designed for the most important brands in the sector.
With Giulio Cappellini he designed Aliante bookcase for the eponymous brand in 1980. It consists of a pair of thin metal combs anchored to the wall, which support a system of wooden shelves.
For Cassina he designed Boboli, a collection of tables characterized by a number of painted aluminium slats that undergo a twist during the processing phase, as if they were organic stems designed to support the precious top.
Also for the Meda company in 2019 he designed DressUp!, a system of comfortable and versatile upholstered furniture, characterized, in addition to the perfect proportion of the lines, by pleats and hinges that run around the back-armrest, thus recalling the elegance of a tailored suit. In addition, there is a contrasting grosgrain profile on the seat cushions.
"Shapes are the interpretation, the materialization of character: I am very rational, I have always been, so I have difficulty creating sinuous objects, and even when I do it I use a measured, almost geometric, never organic sinuosity. I have a "shy" personality, I would say discreet, and I believe that my products are a demonstration of these aspects. Everyone designs, or interprets what they design, starting from their own personality, and I think this is the key to understanding the rationality of my projects."
Dordoni's attention also focuses on the smallest objects, those of everyday life. For KNindustrie he has designed a series of pots and pans working on a double section, which allows the anchorage of the metal or wooden pincer handle, at any point, at any time. This is transformability. The lid itself has a central knob, which allows, when folded over, to be used as an elegant centrepiece stand.
Davide Groppi
Davide Groppi began his working life by opening a small laboratory in Piacenza where he created hand-manufactured lamps. His talent was noticed by Marilena De Padova who commissioned him his first important job, thus started his first collaborations not only with De Padova but also with Boffi, Paola Lenti and Christofle.
Davide Groppi uses simplicity, lightness, mystery and depth, even before metal and glass. He resorts not only to technology, but also to art and craftsmanship. The inspiring source is the relationship between light and shadow constantly present in Caravaggio's work. Light is therefore the protagonist, even more than the lighting body, which is almost always present in minimal forms or as a graphic sign. A clear example of this is Masai, a slender and light vertical parallelepiped, anchored to the floor and ceiling by means of a pair of tie rods.
"Light enhances hidden corners, suggests unexpected solutions and forgotten details. It subtracts, creates full and empty spaces, underlines gestures and actions"
"Light is never neutral, it acts as a protagonist by directing the course of our thoughts and actions. It is necessary to illuminate, but also to seduce, make sense of mystery, it suggests metaphors and helps to imagine scenarios destined to become the mobile and changing theatre of our life "
Nulla and Sampei, two of his most iconic projects, have been awarded with Compasso d'Oro,. The first is "simply" a recessed spotlight essential to the eye, which conceals a very complex technology, with an extremely small, almost non-existent diameter, but nonetheless emitting a powerful and decisive light. Sampei is inspired by fishing rods, its cylindrical diffuser plays with the weight force and with the elastic characteristics of the very thin stem.
«A blade of grass that oscillates and flexes under the weight of the gaze. All in all, it's a fishing rod.».
Davide Groppi prefers light on the table: that of meetings, conversations, silences. The Tetatet wireless lamp was designed with this spirit in mind. The magnetic anchorage to the circular metal base enables it to be hidden under the tablecloth, or to be entirely eliminated in the presence of metal tops.
Daniele Lago
Tenth of ten children, a creative and a visionary, he has taken over the family business, still closely linked to wood craftsmanship. He sensed its potential, transformed it, distorted its language and expanded it. Nowadays, his company employs about 200 people, many of whom form a dynamic marketing and communication team. But above all he has managed to understand the market orientation and taste, offering a series of versatile collections for any type of home and in line with contemporary living. The furnishings have a fresh, light, transversal, but above all innovative image.
He was the first to use glass as a supporting element for tables, furniture and beds. The Air system combines lightness with strength of the elements, elegance and versatility. Transparent tempered glass sheets replace the rigid legs or banal chipboard sides.
Another innovative product is the Fluttua bed. A flatbed resting on the floor with a single central pivot seems to almost "float" in the void. In reality, a solid structure hidden from view makes the bed exceptionally stable, and at the same time attracts amazement and curiosity.
Each element becomes transversal, and can be combined with the rest of the products in the catalogue, thus conceiving to the idea of Apartment Lago, a totally branded house.
"Opening homes and letting them being visited by 'strangers' who have never entered your home implies in itself a different approach to life, the possibility and interest in getting to know other people and expanding communication. This is significant in a historical moment full of migratory flows in which we tend to close ourselves rather than opening up."
The Lago world revolves around the 36e8 module, a unit of measure through which everything is calibrated according to a general order, allowing the various systems to communicate with each other. Thus the Air kitchen has been designed, where the traditional modules are replaced by those of 36e8. The result is unprecedented forms, whereby the classic linear kitchens are no longer contemplated, having been supplanted by a three-dimensional approach.
Ferruccio Laviani
Laviani started his career in De Lucchi studio, and then became a partner in it. He had Zanuso as professor and he designed with Castiglioni. His clients are linked to the world of fashion, design, and automobile. Since 1991 he has been the artistic director of Kartell, a role he has also covered over the years for other companies, although his greatest efforts have been made for the Milanese brand. His work is not limited to the corporate layout, as he designs fittings for each individual store and for exhibitions; but above all he works on objects. Almost all Kartell lighting fixtures bear his signature.
"When I design I am always quite instinctive. A place, a journey, a film, an object that fascinates me can make me see things from another point of view. I don't follow a path, a precise trajectory. What I know for sure is that once the idea is identified, I analyse it as much as possible to understand its validity, after which I place it alongside a more functional, formal and professional aspect and from these connections a project is born. "
Its most iconic and recognizable project is the Bourgie lamp, a reinterpretation of the classic baroque object, but made with a new material for that period: polycarbonate. By moving the point of attachment of the pleated lampshade it is possible to transform its use according to the occasion. It therefore becomes the perfect desk lamp, but also as an office light source and a reading companion.
According to this spirit, he has also reinterpreted the Take bedside lamp by providing it with an industrial language. The image is that of the cast of the lamp, which is dematerialized from its original shape. Later he created Battery, a second lamp of the same type, but without wires.
Kabuki is instead a three-dimensional work on an enveloping texture inspired by lace, which allows light to pass through the interstices. It has become an unprecedented international sales success.
Also for Kartell, he created the company museum in the Noviglio headquarters, which led him to win the Guggenheim Impresa & Cultura Award in 2000 as the best company museum. In 2019 he curated and designed "The Art side of Kartell", a large exhibition set up in the Apartment of the Princes of the Royal Palace in Milan. The exhibition curated by Laviani celebrated the seventieth anniversary of the company, with an unprecedented approach in which the evolution of the language of art conveys the contemporary narration of the evolution of Kartell's design.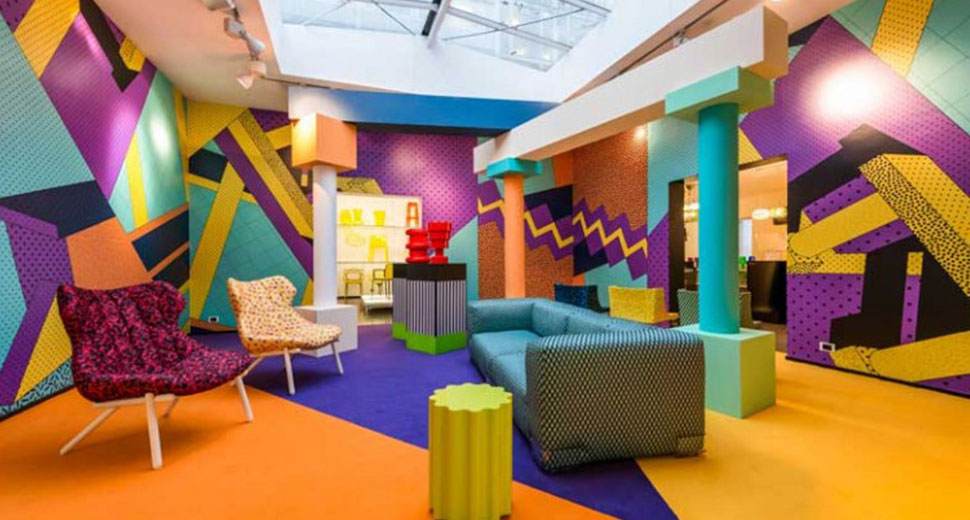 Piero Lissoni
A multifaceted architect and adesigner, he has founded a studio with more than 70 employees based in Milan and New York. He has participated to many international projects, has worked for major design brands and for some of them he has been the artistic director. Lissoni & Partners' work is inspired by a sense of rigor and simplicity and is characterized by a marked sensitivity to details, consistency and elegance. His projects also include homes and residential complexes, offices, theatres, restaurants and hotels, commercial spaces, installations for exhibitions, fairs and museums. Lissoni's interest in the art world led him to draw the retrospective of the photographer Giovanni Gastel, curated by Germano Celant, at Palazzo della Ragione (2016), the room for temporary exhibitions at the Bagatti Valsecchi Museum, inaugurated with the exhibition "The triptych of Antonello da Messina" (2015) and the exhibition on "Bernardino Luini and his Sons" at Palazzo Reale in Milan (2014).
Piero Lissoni has received a number of international awards, including the Good Design Award, the Red Dot Award and the Compasso d'Oro ADI. He is a member of the board of directors of the MAXXI National Museum for the Arts in Rome and is a visiting professor and a member of the Advisory Board of the Milan Polytechnics. He is also an honorary member of the Altagamma International Council.
For Cassina he has designed several collections of upholstered furniture and furnishing accessories, all featuring a research on visual lightness, aiming at pure and elegant forms, with proportion and harmony, such as Toot and "8". Both suspended from the ground thanks to slender aluminium extruders, with a backrest that frames the perimeter of the sofa with determination and rigor, providing extreme comfort.
Cappellini's Lochness container reflects these stylistic choices, characterized by the thin density of materials that make its line extremely graphic, emphasized in its horizontal development. Lochness best expresses the confluence of technology and craftsmanship, typical of high-quality Italian products.
Lightness is the redundant theme around which Kartell Piuma armchair with armrests revolves. The effort was to have the lowest possible weight, maximum strength, working on the section (maximum 2mm) and on the mechanical characteristics of the material, a complex thermoplastic polymer loaded with carbon fibers, weighing 2.2kg, which was awarded the Red Dot Award: Best of the Best Product Design in 2017.
Alberto Meda
His training, and consequently his style, is linked to his mechanical engineering studies at the Milan Polytechnics, where he has also taught. In 1973 he became Kartell technical director for product development. He has won 6 Compasso d'Oro: 3 for the lighting fixtures designed for Luceplan, and one in 2011 for the Alias Teak outdoor table. This project is the evolution of the Frame collection, a set of organically shaped tables and chairs of enormous international success made with extruded and die-cast aluminium. These seats are characterized by their PVC net back seat, which provides extreme comfort and lightness.
The partnership with the Bergamo-based company has been linked to his aesthetic and technological approach to the project since 1987, when he designed Dry, a table with a transparent glass top that emphasizes all attention on the light, organic, essential aluminium structure. It is still so trendy that in 2019 it was reintroduced in the catalogue.
Given the experience in the lighting field, Kartell assigned "the design engineer", together with his son Francesco, the design of a polycarbonate table lamp. The two anodized aluminium cores inserted in the plastic arms function as electrical conductors, replacing the cables. The diffuser has two possible solutions: a flat one with a "disc" and the other one with a throne-conical shape, to recall the idea of "abat-jours".
" It is the knowledge contained in the material that inspires an idea. It is about recognizing it, declining it and applying it, thus revealing its intelligence. "
Since 1994, the MOMA-Museum of Modern Art in New York has included the "Light light" 1987, the "Soft light" 1989 and the "Longframe" 1991 chairs by Alias in the Design Collection.
Paola Navone
Paola Navone is a citizen of the world, an exploring curious; the suggestions of her travelling experiences are vivid in her projects. Being constantly eager to explore new places has placed her in an avant-garde position, following the risky path of experimentation with enviable energy. Immediately after graduation she moved to Africa where she collaborated on research on various ethnic groups. She has worked with the Alchimia group, alongside such renowned names as Alessandro Mendini, Ettore Sottsass and Andrea Branzi.
"Alessandro Guerriero invented Alchimia by putting together this group of " losers " who arrived in Milan from Tuscany and who were doing new and different things. My graduation thesis was on these individuals, who concentrated their production more on design objects than on construction. So I joined them: it was the incredible eighties".
She has lived in the East: India, Indonesia, Thailand, Vietnam, China, the Philippines and discovered new worlds, capable of creating unexpected things. She has collected suggestions and has re-elaborated them, "seasoning" them with the tastes and forms of western culture.
"As a recycling enthusiast I always give objects a second chance to revive them a second time"
In 1983 she won the Osaka International Design Award and in 2000 she was awarded "Designer of the Year" by the prestigious German magazine Architektur & Wohnen. She also won the "Elle Deco International Design Awards" with 2 projects. In 2014 she received a prestigious nomination from the Interior Design Magazine that consacrated her in the Design Hall of Fame.
For Cappellini she has designed the Panda Sofa, a system of combinable upholstered items, represented by full volumes and characterized by contrasting profiles. What enriches is the story; the product presented with its world of accessories made up of polka dot tables, eccentric feet and a giant panda as a floor lamp.
Luca Nichetto
Luca Nichetto manages to combine his soul as an Italian designer with an international vision, highly influenced by social changes and by Scandinavian design.
Born and raised in Murano, he has never abandoned the intuition linked to the art of glass that he had deeply experienced since childhood. He graduated from IUAV in Venice and in 2011 decided to start a new professional activity in Stockholm, Sweden, where he moved for love reasons.
"I think a creative impulse is linked more to someone's curiosity and that one of the main qualities for a designer is that of being curious. Curiosity leads you to explore different situations to change your vision of things and the bigger your cultural background the easier it is to draw on different inspirations to create something that can meet your project needs"
He started collaborating with Cassina with a series of projects related to suggestions drawn from the Japanese culture: first with the Motek seat, which recalls the folds of origami, then with the collection of Torei coffee tables (which means "tray"); in this case the reference is to "bento", that is the container for Japanese takeaway food. The tops of these tables, supported by a really slender structure in painted metal rods, are made of wood (or marble) and dug in the solid wood to contain rather than rest.
Fabio Novembre
Born in Apulia but Milanese by adoption, Fabio Novembre is a particularly eclectic and creative designer and an aesthete. His interdisciplinary approach aims at trying to imagine new worlds. His style is always of great impact: decisive, provocative and innovative, providing a source of extreme suggestions. His story is three-dimensional, full of almost enchanted spaces, made up of new and enveloping shapes.
"I cut out spaces in the void by inflating air bubbles and I give away sharp pins as not to show off. My lungs are impregnated with the scent of the places that I have breathed and when I hyperventilate it is only to stay in apnoea for a while. As pollen I let myself be carried away by the wind, convinced that I can seduce everything around me. I want to breathe until I suffocate. I want to love until I die. "
He has curated many installations, including Bisazza's showrooms around the world, his own solo exhibition at Triennale, and the interiors of the Italian Pavilion of the Shanghai Expo.
Such a volcanic spirit could not go unnoticed by Giulio Cappellini, who commissioned him various projects, such as the And sofa, a modular arch that strongly draws and characterizes space, like a redundant loop.
Org is almost a conjuring trick. It consists of a series of transparent crystal tables, with a multitude of underlying ropes that hang without resting and make it almost floating. The few structural elements are hidden inside some cables.
For Kartell, he has designed a wireless lamp, which recalls the ancient lanterns. "Lantern" is a transparent solid with pleated faces, made with a PMMA injection mould, provided with a LED source inside and an upper ring for gripping or anchoring.
Ludovica e Roberto Palomba
Ludovica Serafini and Roberto Palomba founded their studio in Milan in 1994. They design architectures and exhibitions all over the world and collaborate with some of the most established brands in the world of industrial design.
They are today among the most popular designers, thanks to their ability to combine a vast knowledge of the different aspects of design with a careful analysis of the needs of contemporary society and therefore of the user. The result is a constantly original product, far from the uniformity of the contemporary and characterized by timeless elegance.
"Working in a team, creating teams with different skills, in which the designer is a sort of conductor, who coordinates and directs, taking responsibility for the success of the project. Without a good conductor, in fact, the notes, albeit beautiful, would remain meaningless. "
They have been awarded with numerous international prizes and awards including ADI Compasso d'Oro in 2011 for the Kos Lab washbasin, Elle Decoration International Design Award, Design Plus, Good Design Award, Red Dot, German Design Award. In 2010 some of their products were displayed in the exhibition "What things we are", curated by Alessandro Mendini at the Triennale Design Museum of Triennale di Milano.
They have also designed the Be Bop armchair for Kartell, which is the result of a confluence of styles and languages from different parts of the world, fused into a harmonious yet vibrant composition, as it happens in Jazz.
Constantly inspired by ethnic suggestions, Tribù is a collection of rugs for CC-Tapis based on the playful combination of threads of colours, fabrics and materials, evoking memories of tribal cultures.
Aluzen for Alias is not just a sofa, but also an island where man is the central element. It is a system of upholstered furniture with generous depth, like extremely comfortable Zen meditation mattresses resting on a floorboard where it is possible to attach accessories.
Their creativity is not limited to furnishings; for Artemide they have designed a set of lamps with an organic, subtle shape, closer to an art gesture than to a mere element of lighting. Each curved aluminium element holds a LED strip that projects light towards the internal void designed by the structure.
---