"24 Hours in Milan" Tom Dixon pays homage to the design world capital
TRJ, Italian distributor of the well-known British brand Tom Dixon, is proud to present, and to have contributed to organising, "24 Hours in Milan" a series of digital events, high-profile talks, retrospectives and activities that celebrate the contribution of Milan and of the Salone del Mobile to the world of design.
Since the first Salone del Mobile in April 1961, Milan has become the design capital of the world. To honour the city on this occasion, British design brand Tom Dixon will host a '24 Hours' event in Milan on 13thApril on what would have been this year's first day of Salone (before it was moved to September'21). On the day, Tom Dixon will also launch BURST chandelier and a 100% recyclable HYDRO chair in a 60-piece limited edition run. The designer will be present in Milan… as a hologram.This event is the fourth stop on Tom Dixon's global '24 Hours' tour following Paris (January 20), Copenhagen (September 20) and Stockholm (February 21).
On the 13th of April, Tom Dixon will host '24 Hours in Milan' with a series of digital events, high profile talks, retrospectives and activities celebrating Milan and Salone del Mobile's long-standing contribution to the design world. New and long-time friends of the brand will join to make this day extra special. Guests will include: architect Stefano Boeri, designer Giulio Cappellini, INTERNI magazine Director Gilda Bojardi, Vogue Italia & Architectural Digest Italia editor Emanuele Farneti, Milan icon and celebrated gallerist Rossana Orlandi, Creative Director of Italian luxury fashion house Missoni, Angela Missoni, Business of Fashion contributor and luxury expert Luca Solca, Gilles Masse from Wallpaper * Store, Francesca Sarti founder of the renowned Arabeschi di Latte food design studio,CEO of the iconic Milanese lighting and furniture showroom MOHD Gianluca Mollura,Tom Dixon Como store manager Renata Tagliabue, entrepreneur and creative director Barnaba Fornasetti, chef Marta Pulin and Tom Dixon CEO Hans Hoegstedt.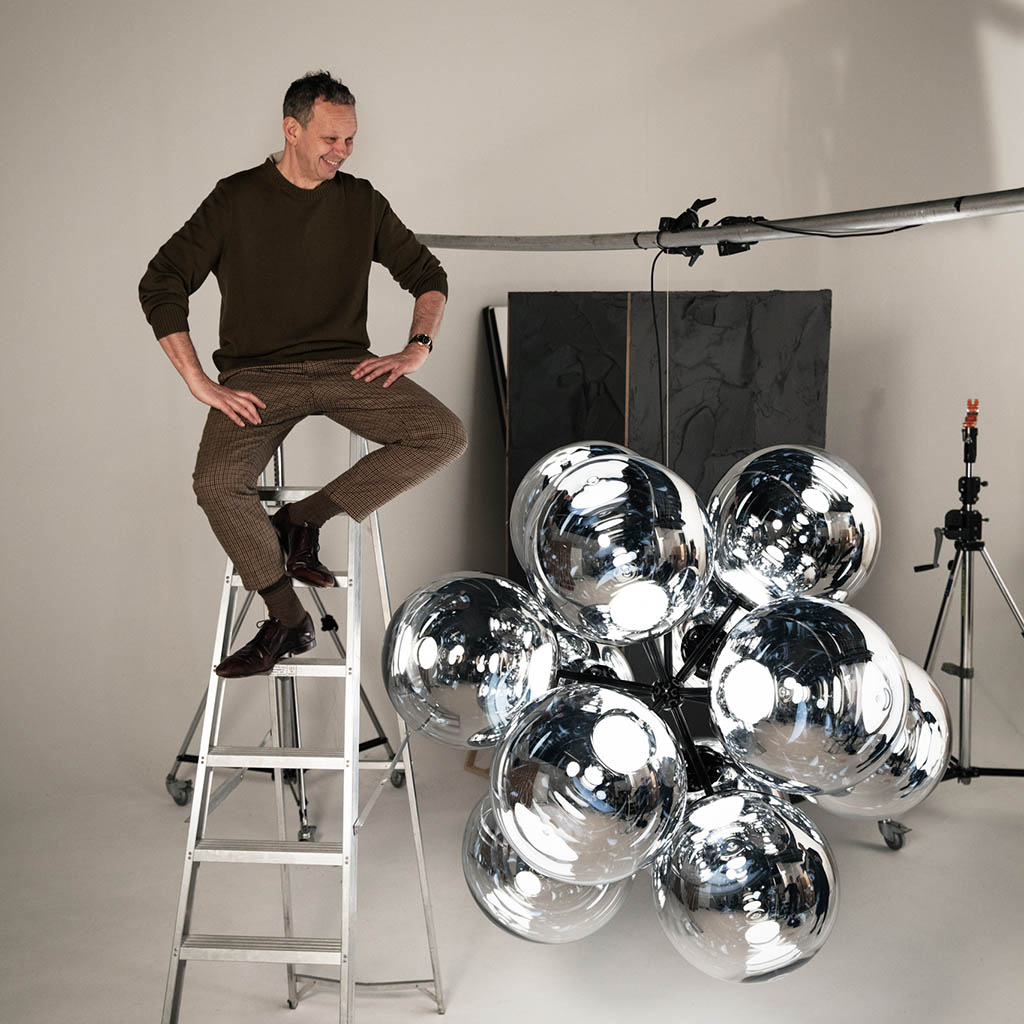 Due to the current Covid-19 restrictions and Italy being in lockdown, '24 Hours in Milan' will be held digitally with Tom's hologram making appearances for live events alongside keyfigures from the design, fashion, music, media and art worlds. By using hologram technology, Dixon's team will create the illusion that the designer is in Milan in person, when in fact he will be standing in front of a green screen in his London HQ(King's Cross). The brand will also reflect on key Milan highlights from their exhibitions over the last 17 years.
Tom says: 'April for many is just another month, the beginning of spring perhaps, but for anyone involved in design, it has always been the beginning of the year, kicking off with a highly anticipated, dauntingand exhilarating visit to MILANO –the absolute epicentre of the design business and the departure destination for our adventures throughout the year. A year ago, the human distress and cultural and financial damage that the pandemic had on Italy was difficult to comprehend from a distance, however soon we were all in similar situations, and it became obvious that all plans would have to be torn up and discarded. Itwas unimaginable then to think that a year later, we would still be unable to travel to our favourite design capital to show and discuss, to sell and to demonstrate our newest ideas… It would be too easy though to go back into hibernation –to ignore the calendar and succumb to the virus. What could we do? Well, we don't think that Covid shouldstop us in our tracks –we have been experimenting in multiple ways to reach our partners, our customers and our friends. Through digital, virtual and more intimate 1-1's and with any tool at our disposal, we can still be present and active. We hope to uniquely engage and to pay homage tothe indomitable design spirit of Milandespite everyone's complete inability to travel.'
The company's CEO Hans Hoegstedt adds: 'It was impossible for usnot to a heartfelt encouragement to our beloved Milan and Salone del Mobile on the exact day that the 60th edition of the Salone was supposed to start. We would like to thank all that have agreed to join us in this homage and tomake this a special day for all the design fans across the world.'
As part of the '24 Hours in Milan' campaign, Tom Dixon will launch two new products:
BURST: An extraordinary chandelier. Large in scale and highly reflective, BURST is made up of 12 spherical orbs which explode from a single point construction to create a spectacular chandelier, available in copper and chrome finishes. Highly mirrored and perfectly reflective during the day and when switched on reveals a multiplicity of internal reflections from the integral LED. It is intended for filling larger spaces and ceiling voids and it was inspired by an interest in molecular structures and the forward-thinking space age. This enormous lighting fixture is epically proportioned and impossible to ignore.
HYDRO Chair: a limited-edition chair created in collaboration with HYDRO, the biggest aluminium producer in the world. The HYDRO chair is an innovation in aluminium technology. It has been blow-formed (through a process called Superplastic Forming) at high temperatures and then laser cut by robots. These methods were developed in the automotive industries to make deep and complex forms that were impossible to achieve a few years ago. The ballooned pattern gives strength and rigidity and lends a soft and humorous pop sensibility to the lightweight and shiny metal sheet. Useable indoors and out, its extreme lightness and stackability make it not just a desirable sculpture but also a highly practical chair. Manufactured in Canada by sub-suppliers to Tesla, the HYDRO chairis one hundred per cent recyclable. The 60 limited-edition chairs have all been signed and numbered. The HYDRO chair will be soldexclusively on Tomdixon.net, from Tom Dixon hubs around the world and selected internationalpartnersfrom 13thApril 2021 at midnight. Price: £2021 each.
Using computer-generated imagery (CGI), BURSTand HYDROwill be captured in iconic landmarks across the city including the brutalist Church San Nicolao della Flue, Palazzo Mondadori and Museo Nazionale Scienza e Tecnologia Leonardo da Vinci where Tom Dixonexhibited in 2013.

'24 Hours in Milan' will follow the same format as Paris, Copenhagen and Stockholm: 1 city and a 24-hour packed event schedule, which will include:
17YRS OF TOM DIXON AT MILAN DESIGN WEEK
6am GMT+1 | 7am CEST
A retrospect of 17 Years of Tom Dixon exhibitions in Milan.
PRESS INTERVIEW WITH INTERNI MAGAZINE
7am GMT+1 | 8am CEST
A conversation with Gilda Bojardi, one of Italy's most respected design journalists and Interni's Director, on Milan as a capital city, Salone and Tom's new collections.
HOW TO… CREATE A SALONE (PRESS) BREAKFAST
8am GMT+1 | 9am CEST
A conversation on food and design with Francesca Sarti, founder of renowned food design studio Arabeschi di Latte who Tom Dixon has collaborated with over many years in Milan.
ITALIAN MASTERS
9am GMT+1 | 10am CEST
Tom on Italian Design, Art, Fashion and Architecture.
TOM IN CONVERSATION WITH EMANUELE FARNETI (LIVE)
10am GMT+1 | 11am CEST
A live conversation on Milan as a cultural, fashion, design and architecture hotspot with Vogue Italia & Architectural Digest Italia Editor, Emanuele Farneti.
Watch Live on Tom Dixon Instagram
A&D PRESENTATION WITH STEFANO BOERI
11am GMT+1 | 12pm CEST
Tom Dixon and leading Milanese architect, Stefano Boeri, discuss the recent explosion in Art, Fashion and Design in Milan, followed by a product presentation by Tom (invitation only).
WALLPAPER* STORE INTERVIEW
12pm GMT+1 | 1pm CEST
What is next for the design industry? Tom in conversation with Wallpaper* Store's Gilles Masse.
CAPPELLINI 'S CHAIR'
1pm GMT+1 | 2pm CEST
Tom in conversation with Giulio Cappellini via Hologram, discussing the LTD edition S-chair and reflecting on 60 years of Salone.
ATALIA (VIP EVENT) ZOOM
1pm GMT+1 | 2pm CEST
Tom in conversation with Renata Tagliabue, operators of Tom Dixon Como store (invitation only).
TOM AND HANS IN CONVERSATION WITH LUCA SOLCA
1pm GMT+1 | 2pm CEST
A panel discussion on the home luxury market with luxury analyst and Business of Fashion contributor Luca Solca, Tom Dixon and Tom Dixon's CEO Hans Hoegstedt (invitation only).
TOM IN CONVERSATION WITH ANGELA MISSONI
3pm GMT+1 | 4pm CEST
A live conversation with Angela Missoni, Creative Director and President of Missoni.
Watch Live on Tom Dixon Instagram
TOM IN CONVERSATION WITH ROSANNA ORLANDI
4pm GMT+1 | 5pm CEST
Tom's Hologram talks to Rossana Orlandi about furniture as collectables, art & fashion, the use of plastics and the Italian design scene.
Watch Live on Tom Dixon Instagram
LIVE AT MOHD
5pm GMT+1 | 6pm CEST
A live event with Gianluca Mollura, the CEO of iconic Milanese lighting and furniture showroom, MOHD, where the new Tom Dixon BURST chandelier will be on display.
Watch Live on Tom Dixon Instagram
BURST INSTALLATION AT CHIESA SAN NICOLAO DELLE FLUE
6pm GMT+1 | 7pm CEST
An installation of Tom Dixon's new BURST chandelier in Chiesa San Nicolao delle Flue, Milan's historical Brutalist Church, built in 1968-1969.
MASTERCLASS WITH MARTA PULINI – HOW TO CREATE HER DISH AT HOME
7pm GMT+1 | 8pm CEST
Renowned Italian chef Marta Pulini shows us how to cook one of her favourite dishes, as seen at The Manzoni during design week in 2019.
COCKTAIL MASTERCLASS
8pm GMT+1 | 9pm CEST
A Cocktail Masterclass at The Manzoni, Tom Dixon's restuaurant and hub in Milan.
TOM & BARNABA FORNASETTI
9pm GMT+1 | 10pm CEST
A conversation with Barnaba Fornasetti, discussing music and design, scent brands, and running a familiy business.
24 Hours in Milan will be broadcasted across Tom Dixon's channels, tomdixon.net, @tomdixonstudio on the 13th April.
The next stop on the International Tour will be 24-Hours in Shanghai in June 2021 and New Yorkin November 2021.
---